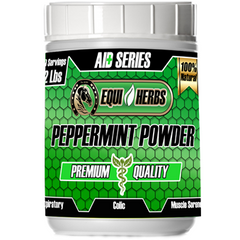 Herbs have been used for centuries to cure disease and improve nutritional and overall health. In the wild, animals, including horses, seek out these natural remedies when they feel unwell. Equi-Herbs herbal supplements for horses can help owners and breeders maintain horse health in the simplest and most natural way.
Important Herbs for Horses
Whether used independently or in combination, products from Equi-Herbs can address a vast number of painful, uncomfortable, and even life-threatening conditions in horses. A few of the most important herbs for horse health include:
Peppermint
Peppermint helps to relieve colic by relaxing the digestive tract. It's also very effective in treating sore muscles, diarrhea, and heartburn. This herb not only reduces stress in horses, but also improves their circulation and respiration as it boosts their immune systems.
Nettle Leaf
Nettle leaf offers effective treatment for horses with anemia and also aids with reducing inflammation. This herb can also be used to treat pain from wounds and infections.
Ginger
Ginger is a powerful healer. Its anti-inflammatory properties equal that of pharmaceutical equivalents, making ginger a great natural choice for infections, digestive problems, and wounds. Ginger also aids in nutrient absorption and promotes detoxification.
Tribulus Terrestris
Tribulus terrestris is beautiful to look at, and it offers many health benefits to horses. It can enhance their performance, as well as help to lower cholesterol and blood pressure. Tribulus can also help to resolve kidney stones and erectile dysfunction, and it increases testosterone levels.
How Our All-Natural Horse Products Improve Horse Health
Although the above herbs and many more can benefit the health of your horse, it's important to ensure that the supplements they receive are as natural as possible and were formulated with only the highest-quality herbs, safest combinations, and the latest technology.
Choosing and administering the right horse supplement can result in the elimination of infections, as well as a healthier skin and coat. The best products will help both to lower stress and help your horse be more resilient in stressful situations. Joint support supplements can also help your horse to move without pain, improving their overall health and quality of life.
The right herbal combination must be given for the specific condition the horse is experiencing. For example, if your horse is suffering from hoof cracks and laminitis, the best supplement is our Kelp Powder, which contains rare antioxidants but also carotenoids and vitamins K, B, and E.
Specifically Designed, Powerful Herbal Combinations
All Equi-Herbs products were designed to increase your horse's performance by helping to improve their health naturally. In choosing our supplements, your horse can experience relief from bleeding, improve their hydration and nutrition, and so much more without the risk of imbalance that some equine pharmaceuticals can cause.
At Equi-Herbs, all of our formulations were designed from our passion for horses with the goal of helping your horse live a long life that's free of pain and disease. Shop for our products online or call 1-800-786-0708 to order.