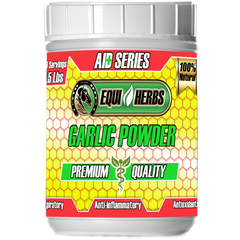 When your horse isn't looking or feeling its best, herbs can be a great way to give it what it needs and engage its natural herb-seeking behavior as well. Herbs possess natural healing power that can offer many benefits to your horse. Here are 5 reasons to consider herbal supplements for horses.
1. They Help Boost Immunity
Just like humans, a horse with a healthy immune system will have a solid defense against disease and infection. Aloe vera is well-known for its immune-boosting benefits and antioxidants, which keep cells protected from free radical damage. Garlic is another immune-boosting herb that not only helps horses fight illness and infection, but also provides the compounds, vitamins, minerals, and amino acids they need for overall health.
2. They Improve the Condition of Hooves
Improving the health of your horse also means feeding their feet; without the right nutrients, your horse's hooves can split, weaken, and become susceptible to conditions like thrush, laminitis, and puncture wounds. Herbs for horses that stimulate circulation and improve it will allow an adequate supply of blood to reach the foot. This can be accomplished with herbs like buckwheat, comfrey hawthorn, and nettle leaf.
3. They Keep Coat, Mane, and Tail Healthy
Your horse's diet is the first place to begin when its coat, mane, and tail aren't looking as shiny or as full as they should. Ensure there are plenty of healthy fats in the diet first. If they still need a bit of a boost, it can be a good idea to choose herbs like peppermint, which offers anti-inflammatory and cooling benefits. Nettle helps keep the tail looking shiny, soft, and full.
4. They Help with Digestion
A horse that is able to make full use of the nutrition it consumes is one that will enjoy lifelong health. The key to full nutrient uptake is complete digestion. Peppermint helps digestive tract muscles to relax, while dandelion can be used for a range of digestive issues. Garlic is also beneficial for digestion, as it is a prebiotic that helps healthy gut bacteria to thrive, as well as an effective blood cleaner.
5. They Improve Eye Health
It's true that a strong immune system and quality nutrition can prevent most eye problems in your horse. However, even healthy horses can develop eye conditions. Should this happen, it can help to have certain herbs on hand.
For example, when calendula and chamomile are combined into a tea and cooled, they can be used as a gentle eyewash to remove irritants that can lead to more serious problems. An all-in-one product containing several health-boosting herbs will offer your horse essential nutrients, as well as anti-inflammatory, immune-boosting, and many other benefits.
As a company that's passionate about horses, Equi-Herbs sources only the highest quality of ingredients in our supplements. Our range of all-natural equine herbal products, including garlic powder and All-in-One, allows your horse to benefit from a healthy and disease-free life. Visit us online or call 1-800-786-0708.