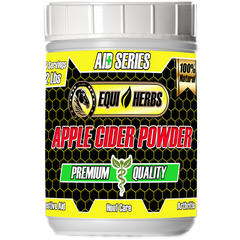 For thousands of years, all animals, including horses, have instinctively sought plant-based remedies when experiencing illness in the wild. Although most horses have now been removed from their natural living conditions through domestication, these herbs and natural remedies are still able to be administered for optimal horse health.
Herbs
When administered properly, the use of the following herbs for horses can offer a multitude of benefits to those who are suffering from acute or chronic conditions.
Aloe Vera
Aloe vera is ideal for the treatment of several conditions. This plant effectively heals wounds, moisturizes the skin, has laxative effects, and stimulates bile secretion. However, because it also stimulates muscles, it should never be given to pregnant mares internally.
Apple Cider Vinegar
Horses given apple cider vinegar powder or ACV in their feed can benefit from balanced pH. ACV also helps improves digestion, as well as prevents intestinal stones. It can also be used to condition the mane and tail, treat wounds, and ease arthritis symptoms.
Ascorbic Acid
Ascorbic acid or Vitamin C offers benefits, including collagen synthesis that is vital to the structure of connective tissues. Also a powerful antioxidant, ascorbic acid helps protect the lungs from oxidative damage.
Bentonite Clay
Many horses have been able to overcome conditions including stomach ulcers, chronic hoof abscesses, diarrhea, and laminitis when fed bentonite clay internally. It is also beneficial as a poultice for wounds and hoof abscesses.
Coconut Oil
The saturated fats in coconut oil make it very advantageous for horses, whether used internally or externally. Cracked hooves will benefit from the moisturizing and healing properties of vitamins C and E. It also provides horses with twice the amount of energy of protein or starch.
Creatine
In human athletes, creatine provides the nutritional boost needed for improved performance. Horses participating in repeated-resistance exercise for short periods can benefit most from creatine.
Dead Sea Clay
Dead Sea clay has been used for thousands of years because of its healing properties. This particular clay helps support joints, soft tissue, and muscles with its ability to stimulate circulation. It is also ideal for boosting the immune system and improves bowel function.
Dead Sea Salt
When this type of salt is used as a mineral soak in warm water, horses can experience relief from pain in their ankles, neck, knees, shoulders, and back. Given internally, Dead Sea salt helps horses replenish electrolytes and enhances their calm.
Garlic
Another ancient herbal remedy, garlic has a host of health benefits. It is anti-parasitic, anti-fungal, anti-viral, and anti-bacterial. This power herb also improves circulation and helps the respiratory system, to name but a few.
Ginger
Another remedy of the ancient world, ginger continues to offer horses benefits including stimulating appetite, reducing anxiety, relieving digestive complaints, and soothing arthritis symptoms. It also can be an ideal remedy for poor circulation and chilblains.
Glucosamine HCI
Horses experiencing joint pain and the breakdown of cartilage can benefit from glucosamine HCI supplementation. Glucosamine supports the production of cartilage and can lessen pain in the joints due to its ability to inhibit inflammatory mediators.
Kelp
Kelp is a well-known superfood that can benefit many areas of horse health. Its content of vitamins, amino acids, and trace minerals makes it ideal for addressing common hoof problems like cracks, thrush, and laminitis.
L-Arginine AKG
Where additional support for the hoof circulatory system is needed, L-Arginine AKG can be very useful. It also improves general circulatory health, as well as supports blood-oxygen levels and the immune system.
MSM
Both aging and performance horses given MSM have experienced relief from joint pain. MSM's other beneficial properties include support for connective tissue, hooves, bones, and cartilage, as well as skin and coat.
Peppermint
Peppermint is well-known for its ability to relieve all manner of gastrointestinal issues due to its menthol content, which is anesthetic, cooling, and antiseptic. Peppermint can also be used to encourage eating, and it increases bile flow and contains expectorant compounds.
Spirulina
Blue-green algae is another name for spirulina, which boosts the immune system. Spirulina also helps increase appetite, as well as provides relief for horses experiencing hives, respiratory inflammation, or other allergy symptoms.
Turmeric
Turmeric is high in curcumin, a powerful antioxidant that protects cells from free radical damage. In addition, turmeric is also anti-inflammatory, making it ideal for the prevention and/or relief of a wide range of conditions, including arthritis, cancer, cardiovascular disease, and diabetes.
Herbal Remedies
The natural substances that an ill horse seeks out in the wild can have many beneficial effects when consumed in combination. Thanks to this ancient herbal knowledge and modern technology, these powerful combinations are available in herbal supplements for horses.
Bleeder
An herbal no-bleed formula can help support the lungs of performance horses and prevent bleeding. A formula containing ingredients including peppermint, dandelion, Siberian ginseng, and turmeric will increase capillary strength and keep the lungs clear.
Breathing Support
When a horse is properly oxygenated, its muscle tissue can function at its best. The right breathing support supplement will improve circulation and increase lung performance overall, as it prevents muscle spasms and inflammation. The eucalyptus, peppermint, and licorice in Super Breathe all contribute to better breathing.
Calming
Too many chemicals and heavy metals in a horse's body can result in the development of disease and behavioral problems such as anxiety. A turmeric powder supplement can offer protection and regeneration for cells damaged by toxins, and bentonite clay can bind and draw toxins out.
Digestion Support
Where it comes to optimal digestion via the healing of gastrointestinal issues, both aloe vera and apple cider vinegar in liquid and powder forms offer a range of benefits. These include digestive system cleansing, healing of ulcers, and absorption of toxins in the bowels.
Electrolytes
For optimal performance, tying up, and calming, every horse requires balanced electrolytes. Dead Sea salt offers superior hydration with very low sodium content when compared to other ocean salts.
Endurance and Performance
Getting the best from horse training without harmful side effects or risk is possible with the right supplements. Adrenal Activator and Advanced Pre-Race offer natural support for top performance. You can also opt for an all-in-one product for whole-body health.
Hoof Support
Apple cider vinegar and bentonite clay powder can work together very effectively for the support of hoof health.
Metabolic
Raised adrenal hormone levels can provide a burst of energy to enhance performance. Adrenal Activator contains spirulina, ashwagandha, cordyceps, and more for multiple performance benefits.
Pain and Inflammation
For horses experiencing pain due to age, disease, or high performance, many solutions are available. Choose supplements like Glucosamine HCI to protect joints, L-Arginine for improved recovery, and spirulina for anti-inflammatory and other benefits.
Pre-Event
Horses who love to compete need optimal natural fuel. Supplementing with Advanced Pre-Race will optimize mental focus, circulation, and air intake and calm your horse. Air Max VO2 improves breathing and circulation, while Next Level Performance Paste provides a performance-enhancing energy boost before their event.
Poultice & Clays
Our pure bentonite clay benefits wound healing by removing toxins, while Dead Sea clay can be used to reduce painful swelling.
Recovery Support
We offer a complete line of natural products to support horse recovery following surgery, illness, or post-event. These include creatine, garlic powder, ascorbic acid, and MSM.
Tying Up Support
Achieve all-natural tying-up support with our turmeric powder and All in One supplement, which contains no fewer than 20 balancing herbs.
Thyroid Support
A healthy thyroid begins with complete nutrient balance. Our kelp powder offers thyroid stimulation in addition to many other benefits, including enhanced fertility, calming, and help for hoof problems.
Weight Gain
Many natural products are available to assist with weight gain. Both our All in One and Adrenal Activator products can help, as can our creatine, coconut oil, and spirulina powders.
Learn More About Our Supplements
Equi-Herbs specializes in locating, gathering, and combining only the highest-quality natural ingredients for our equine herbal products. To learn more about our lines of supplements for horse health, visit our website or call 1-800-786-0708.