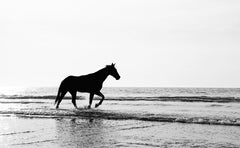 Kelp's wide range of antioxidants, amino acids, vitamins, and minerals can provide the ideal natural supplement for horses, especially where grasses and feed sourced from overworked soil are nutrient-deficient. We dig deeper into the health benefits of kelp for horses, and how to ensure your horse receives the right amount.
Can Horses Eat Seaweed
?
The short answer is yes; horses who live near coastlines can often be seen wading into the ocean to nibble on kelp leaves. This is simply a natural nutrition-seeking behavior, just like that of other horses and all animals.
When the need to replenish certain nutrients or relieve physical pain or discomfort is present, a horse will seek out whichever plants and herbs can provide what they need at the time.
How Can Kelp Benefit Horse Health?
Since it was identified as a useful additive to animal feed in the 1930s, much data with regard to kelp's benefits have been observed and recorded. They include, but are not limited to:
Clearer skin and shinier coat

Possible improved fertility in mares with abnormal cycles

Thyroid function regulation

Raised iodine levels in horses with iron deficiency

Improved stamina and growth
In addition to the above benefits, kelp has also been shown to calm nervousness, prevent ulcers and inflammation, soothe the intestines, and stimulate the immune system. Antibacterial, antibiotic, and antirheumatic benefits have also been observed.
These health benefits of kelp for horses are certainly significant and, although kelp is a natural substance, it's important to note that it is also very powerful. That being said, ensuring your horse receives the optimal dosage is absolutely critical.
What Is the Right Dose?
In many instances, the right dose of kelp for a horse will depend on their current iodine levels. Horses that have been diagnosed with hypothyroidism or a low-functioning thyroid are likely to benefit from the high iodine content that kelp contains.
However, feeding kelp to horses should also include consideration about iodine toxicity, as this can cause the thyroid gland to become damaged. If given to a pregnant or lactating mare, iodine toxicity in the foal as well as goiters due to an inflamed thyroid gland can occur.
The Merck Veterinary Manual estimates the dietary iodine requirement for horses to be 0.35 mg per kilogram dry matter feed. It also states that higher amounts of 0.4 mg per kilogram dry matter feed may be required for mares in late pregnancy.
When feeding kelp to your horse, always calculate the right amount to feed, and then weigh it to ensure the exact amount is administered.
Improving Horse Health, Naturally
There are many benefits of feeding seaweed to horses. When you want to help your horse live a long and healthy life, there are also many other natural supplements to choose from.
All-natural formulations from Equi-Herbs contain only the highest-quality ingredients, and our formulations are specifically designed to offer maximum benefit. Visit our website or call for more information today: 1-800-786-0708. 
Source: